Fun and relaxed wedding photographer, seminar photographer, theatre & event photographer and much more. Available to the UK and abroad, and local to Devon and Somerset (Plymouth, Exeter etc). Email fiona@fionawalsh.co.uk. Scroll down for more.
Below, see Fiona in action for weddings.

Fiona Walsh LBIPP / BSc / Young Business Woman of the Year (2006) / Finalist Westcountry Wedding Award (2008) / Winner Westcountry Wedding Award (2010)
Wedding Photography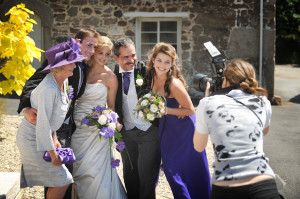 I certainly have always loved weddings, since I was a little girl. They're such a beautiful celebration of how central love really is in our lives. It's really important to me to capture your wedding day because those moments are the pieces of fabric that make up the whole quilt. What a privilege to capture and preserve those times that contribute to a great life when you look back in 50 years time.
And I must tell you, the secret ingredient to getting beautiful images is for you to relax and have fun without noticing the camera. This way I can capture YOU as you are. So if you'd like to do something different, something fun, or something that looks romantic, let's do it! My approach is relaxed and fun, I like to be seen as a friend on your day, rather than the wedding photographer. I really want you to look back on your images and connect to that sense of joy as you remember how you felt, not just how you looked.
There's so much beauty to see in life, I am so pleased to work in an area that lets me capture it.
Wedding photography prices start from £995 for disc packages. Your images can also be designed in a timeless coffee table book of outstanding quality. Copies for parents and bridesmaids etc are available too.
Call +44 (0)7790 838589 or send me a message today to find out more, to check my availability, and to get started.
View the wedding photography gallery.
Commercial Photography & More
My camera comes with me everywhere! I'm also a photographer of the theatre, bands, seminars, and much more. From a intimate party setting for a 90th birthday to a Gala dinner with Bill Clinton, drama on stage at the Theatre Royal to Sir Richard Branson at the London 02 arena, it's a great privilege to be involved. Get in touch and tell me all about your project/event. View the event photography gallery.
See Fiona Walsh Photography on Facebook and Twitter for recent imagery and updates.
 __________________________________
Wedding suppliers:
Wedding Venue     –                    Lewtrenchard Manor
Wedding Venue     –                    Langdon Court
Wedding Pianist    –                    Tiednote
Venue Decoration  –                   Sitting Pretty
Event Management –                Fiftypointfour
Mission Statement: Extremely driven through our passion for people and photography, for quality and sophistication of imagery and product, we work to our highest capacity to provide stunning imagery that surpasses expectation, to generate lasting relationships that puts our clients at ease, and to bring a touch of class through timeless high quality products. We exist for that market which views photography as highly important and for those that seek not just long lasting products but long lasting memories.