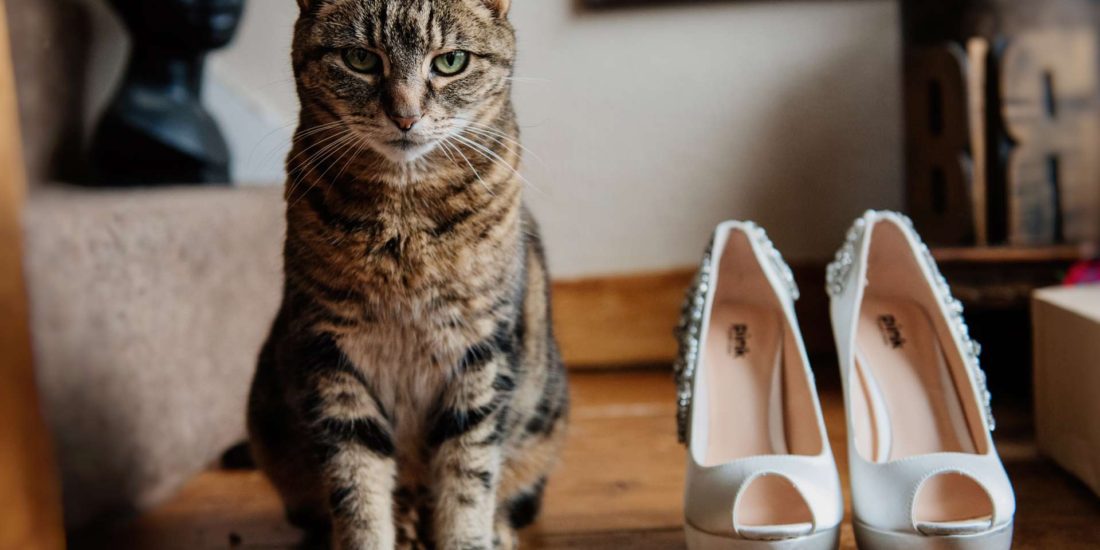 Old Down Manor – Wedding Photographer Bristol
What a romantic wedding this was at Old Down Manor. Stylish, modern, and beautiful.
I was so excited to be returning to Old Down Manor, Bristol for wedding photography. It was a year before I had photographed there and I knew all the possibilities it had. The bride and groom's wedding was so stylish and modern with gorgeous wedding decor ideas. They had 4 large letters lit up spelling 'love', they had peonies on the banisters and on the tables, and the bride's choice of wedding hair and wedding dress was classic.
I thought it was brilliant that the first photo I took on the wedding day was of the cat! As I first arrived at the bride's parents house their sweet cat, Beebee, kept following me around. She posed by the wedding shoes as though they were her own.
The bride's sister threw rose petals down the aisle before groom walked down. All the sisters gave a reading, and it was beautiful and emotional. One of the things I love as a wedding photographer is seeing the glances the bride and groom give one another throughout the day when they think no-one is watching. Actually they probably know where they are but so into each other they forget everyone's watching hehe.
The speeches were full of emotion, you can see it in the look they give each other, the light touch of her hand on his to tell him she's supporting him. Then the best man gave his speech and there were so many hilarious expressions.
In the evening the couple had their first dance indoors surrounded by sparklers! They were indoor sparklers! I didn't know there was such a thing, so if you're in the middle of planning your wedding you must get some!
Likes/shares/comments are cool!
Get in touch now, I'd love to hear all about your wedding.
suppliers:
Wedding venue Bristol – Old Down Manor
Wedding Dress – The Mews
Wedding makeup – Ellie Hurst
Wedding DJ – The Wedding Players
Wedding Flowers – Tincan Floral
Wedding Cake – Bake My Cake