Welcome to the Enchanting World of Cadhay House in Devon
Hazel & Craig's Devon Wedding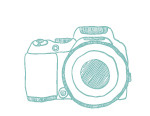 With a warm and sunny day setting the stage, Hazel and Craig's wedding was a celebration of romance and laughter, amongst captivating surroundings that left an indelible mark on everyone present. Including myself. This was the first time I've photographed a wedding at Cadhay House, and I was spoilt for choice with so many amazing photography spots.
Listed by Country Life Magazine as one of the top manor houses in the country, Cadhay House stands as a testament to timeless beauty and elegance. It's historic (going back to the Tudor era), it has a central courtyard, lush lawns, a big beautiful pond, and awe-inspiring blooms. Not to mention the amount of trees there. I loved finding little corners of beauty, where benches would be placed under willow trees, a fountain sparkling in the light, and flowers growing up the walls.
The Devon wedding venue was adorned with an abundance of vibrant flowers, everywhere you look, there must have been hundred's of dahlia's, sunflowers too.
There was an icecream cart on the lawn. Guests could indulge whilst sitting on a bench by the pond. Later, we did a photo shoot with the warm evening sunlight. The lush surroundings conspired to create compositions that were so romantic. Hazel stopped to smell the lavender as we went passed by it. I'm sure the bees were saying "congratulations!".
To Hazel and Craig's surprise, their friends approached them with masks on their faces! – masks with the groom's face! Such a laugh! Hazel gained an additional 9 Craig's for a minute!
Hazel and her friends later came out from all the epic dancing to appreciate the warm air, and the touch of pink in the sky above the flowers. Cadhay House and Gardens offers allotments too, so the grounds around them were filled not just with flowers, but lush vegetables, which really sets a country scene.
Being a wedding photographer is kind of like a hairdresser, in that I get to be up close and personal with people and be part of their story for a bit. I particularly love connecting with guests when they ask me about my work. I leave weddings having learnt a little bit about a lot of people and feel all the better for it. We all really need each other don't we. The speeches always give me an insight into the families too and it's so very heartwarming to hear and witness the love they have for one another. I found Craig to be so humble, and Hazel to be so kind.
Cadhay House isn't just a place – it's a keeper of memories.