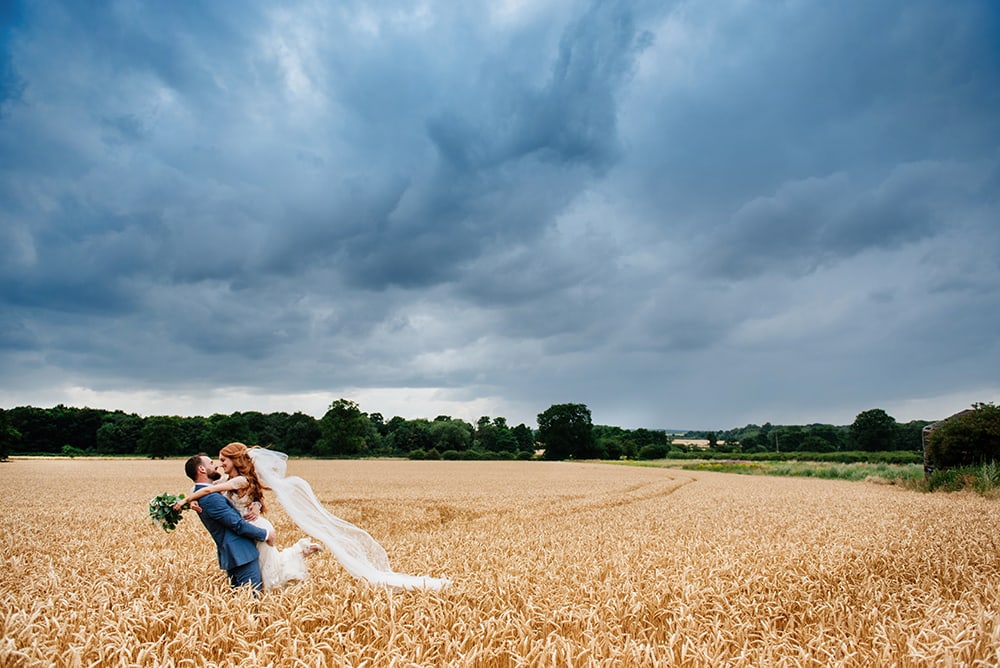 Romantic and Vintage Country Wedding Photographer UK
Love and landscapes. That about sums me up and this wedding had that and more. I got to shoot this couples wedding photography in a gorgeous cornfield and even more exciting was that the rain was just about to start which meant an awesome moody blue sky in the background. Just couldn't believe the timing of the rain though, as we decided to finish up it started, love that!
These two though, aren't they lush? Curly red locks, a long veil, a Jenny Packham wedding dress, and such stunning wedding flowers from the groom's aunt. I know, right! Amazing. Watching them together as a couple was brilliant as they were so in love, so natural, so happy. I always tell my couples to really enjoy the photo time, don't think of it as a wedding photo shoot, just think of it as an opportunity to spend time together. Wedding photos always come out beautifully when you're focused on the feelings you're experiencing, it's also great if you just treat me like I'm one of your friends as then you can be totally yourself.
The whole day was so much fun from start to finish, laughter all the time, especially during the speeches! I honestly felt like I was an honorary bridesmaid, she was so kind to me. We had met through her being a wedding guest at another wedding I shot. She got in touch with me after my lovely bride, Jen, had received her wedding images. I'm so thrilled and grateful when that happens.
If you liked the images, please let me know 🙂