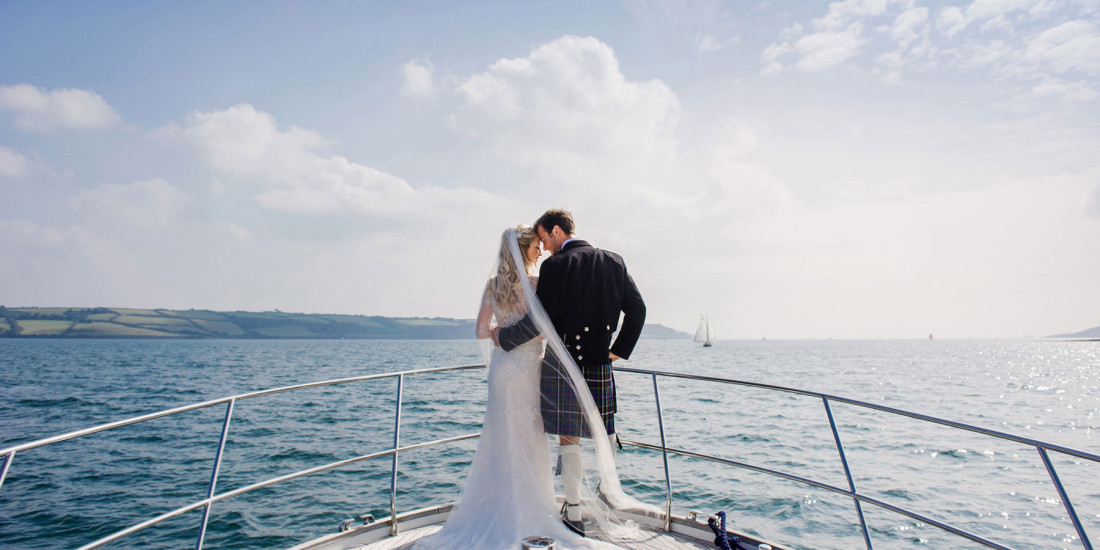 Wedding Photography Cornwall by the Harbourside with the crew from Healey's Cornish Cyder Farm
I had the pleasure of photographing the stunning Lara and Joe on a perfect September day in Falmouth, Cornwall.
We even went out on the family boat around the harbour, it felt like we were in another country.
The morning started beautifully with a delivery of flowers for Lara and a love note from Joe which had a bunch of carefully selected love hearts. My favourite was the one that read 'I will'. Lara was a stunning bride, she had the elegance of Princess Di in one photo.
She wore a delicate lace dress and Joe wore a traditional Cornish kilt. After their ceremony they walked through the longest confetti tunnel I've ever experienced with 100 guests!
They arrived to the marquee on their farm in their Austin Healey and all their guests waving to them. We did some night shots to finish off a perfect wedding day.
This is what Lara, the bride, said:
"For anyone that is looking for a wedding photographer, I can't recom

mend Fiona enough. From our first meeting where we chatted through the plans of the day to her producing the most amazing photos- what a star. We are thrilled with our photos and I have so many favourites. The way she captured the day really tells a story and you hardly knew she was there. For anyone that is trying to decide on a photographer it is money very well spent (well with Fiona anyway!) My husband was a little 'dubious' about spending money on a photographer, however he is now very happy we did. Thanks xx

"

If you liked these images, please do 'like' and share it! (click the 'share' button at the bottom of the page).
See another beautiful wedding, click the image below or send Fiona a message to see if she is available for your wedding.
Links to Wedding Dress Cornwall. Wedding Makeup/Hair, & Wedding Flowers:
Wedding Flowers Cornwall – Flowers by Clowance
Wedding Dresses Cornwall – Bridal House Truro
Hair by Lisa – Wedding Makeup & Hair Cornwall 
Comments