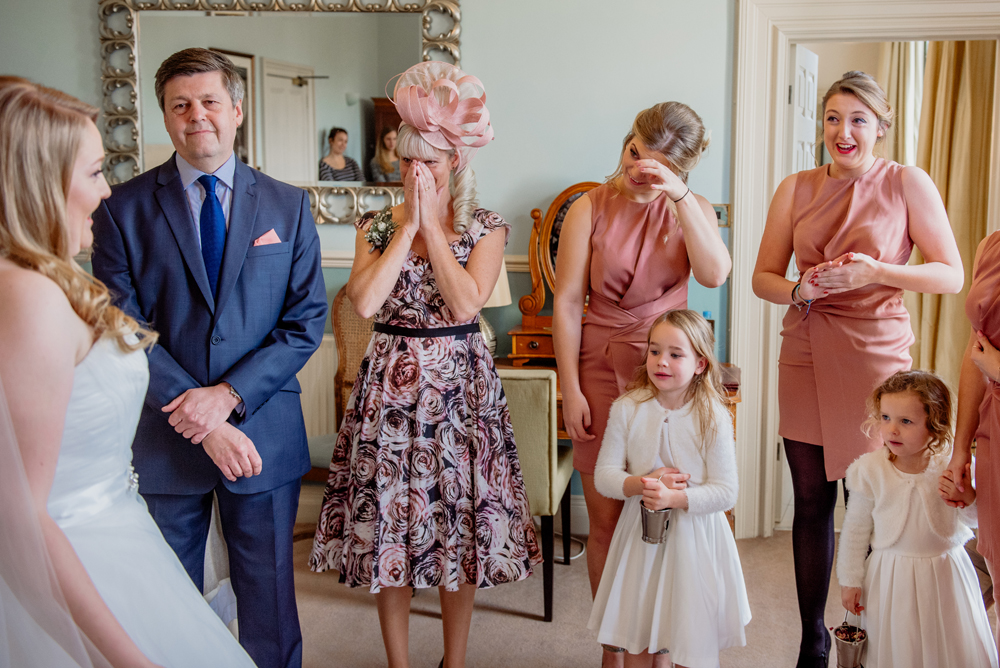 UK Somerset Wedding Photography at the Mount Somerset Hotel
I walked into the bridal suite at the Mount Somerset Hotel to join the girls. The first thing I heard, from the bride's mum, Karen, was "You're so welcome, Fiona! We've all been following you on Instagram, your images are amazing, please feel like one of the family here today". I can't get over how blessed I am to have the opportunity to have been there and documented their day.
In the room with Robyn, the bride, were her 6 bridesmaids, her mum, and the makeup artists. One of the bridesmaids was her sister, Ellie. She is so talented, she created the stunning wedding invitations. I was privileged to witness the love Robyn has for her sister, and the love all of the family have for one another. Capturing such special moments between them made me feel so warm inside. Robyn saw an image of mine of a father crying when he saw his daughter as a bride and said she booked me as her wedding photographer uk straight away!
Helen, the wedding makeup artist, was on call to patch up Robyn's makeup after tears rolled down her cheeks thinking of just how much her sister, her family, and her groom mean to her. Ellie was half way through doing up Robyn's dress when they held each other in tears of love and happiness.
Robyn did a 'first look' with her family which was so special. She walked into the room and all their faces lit up!
When the two of them talked about snacks in their wedding vows (without knowing the other one was going to) I knew it was the kind of love that is as easy as putting socks on. Looking around, during the wedding ceremony, I could see the mother of the bride, the father of the bride, the sister of the bride, the friend of the bride, the mother of the groom, and many others taking a tissue out and dabbing their eyes.
We had a little rain in Somerset but that didn't stop us going out in it anyway! It was so windy that Robyn's veil went flying many times! The Mount Somerset Hotel is so stunning inside so this allowed me to take artistic and romantic wedding photos with the chandelier and the doorway.
We went onto a village hall and the transformation of this hall into a Somerset wedding venue just demonstrated how talented the family were. It was a winter wonderland! They had fairy lights on the ceiling, big letters in lights, little mini cakes in a bag, and lots more on the tables. They created a hot chocolate stand, and even had a pie bake off competition!
This Somerset wedding photography uk finished with a really awesome night shot, set for 4 seconds I swirled a 'jedi' light stick around them for a bit of the 'wow' factor.
It has been an amazing year of wedding photography UK. This was an absolutely awesome wedding to finish the year off and I'll always remember it.
Please do 'like' the post at the bottom if you enjoyed it!
Here's what Robyn said when she saw the images:
"Fiona, I don't know what to say. Just, Breathtaking. We will never be able to thank you enough. Xxxxx"
View another lovely wedding here, or get in touch about your awesome wedding day. If you're engaged or know someone who is, please get in touch!
'Shares' and 'likes' are cool 🙂
Suppliers:
Available for wedding photography France, Italy, and all of the UK.
Comments